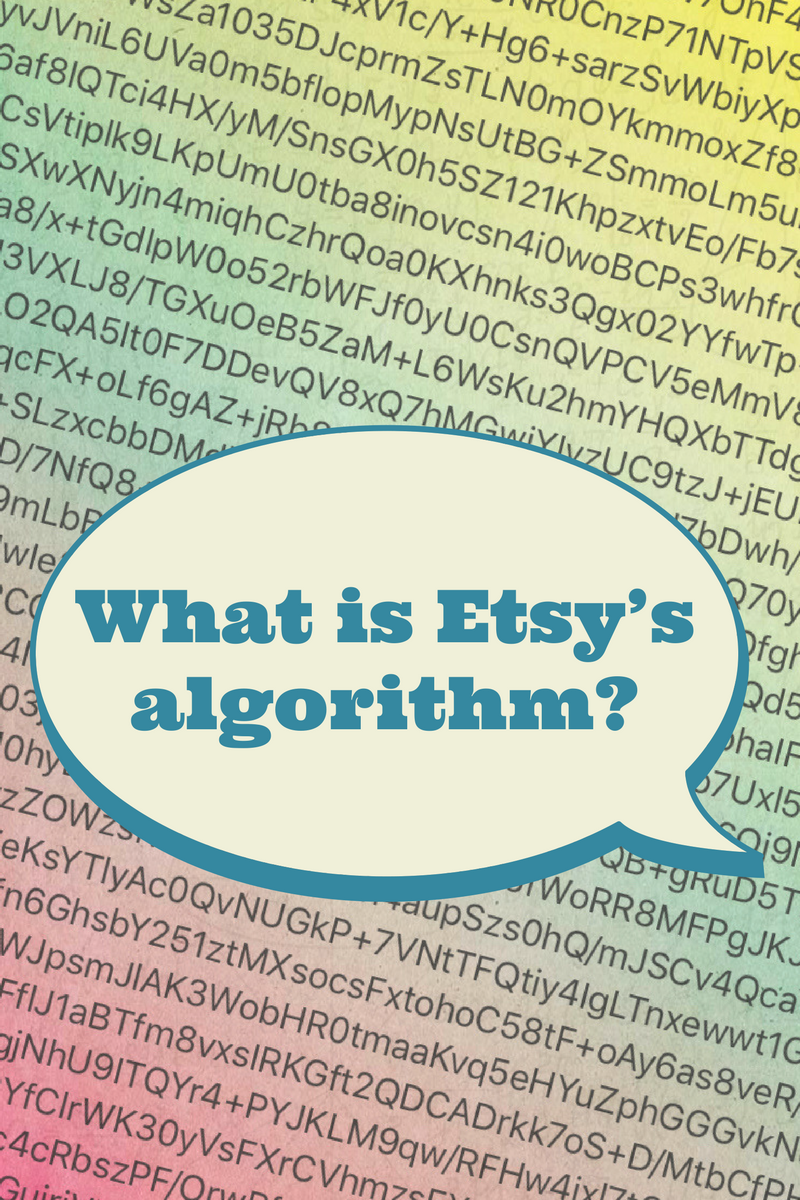 No one really knows Etsy's algorithm
This post is about Etsy's search factors in 2018.
This is all theory and conjecture. Information is based on my observations and those of many others. If you want facts, please move on to another blog post.
Possible Algorithm Factors
Remember that these change all the time. And some are weighted differently.
(The algorithm is kept private. That maintains fairness for all sellers.)
Okay, here goes...
*Asterisk means factors that I have seen said by Etsy Admin that DO count. But factors can always change.
#Pound key means factors that I personally have seen at work.
->Elements seller can work on
Item quality
Beautiful click-worthy photos*
Titles and tags*
Accurate item category*
Attributes completely filled out*
Attributes accurate*
Accurate title and tags* (Admin is saying that inaccuracies are now being penalized by Etsy search)
Seller shop activity
Regularly renewing items and listing new#
Using
Shop Updates
in the last period of time (week? month?)#
Shop completeness
Completed About section*
Returns Policy* (have something)
Canned Policies* (Etsy prefers that sellers use their preset policies)
Shop promotion
Offering
free shipping
Having
sales
Using Promoted Listings
(internal Etsy ads seems to have an indirect positive effect)
Shop quality, buyer experience
Shipping quickly (do not go past your stated shipping time)*
Customer service cases*
Review score (stars)*
Copyright infringement cases*

Factors some feel play a part, but I disagree with

Use all 5 About photos
Using FAQs (in canned policies)
Frequent renewal of items
Using Etsy shipping labels
Using a cover photo (I do not)
Using Integrated PayPal (I do not)
Things that Etsy has stated do not factor in but may have changed
Content of Descriptions
(admin has said that it may eventually be a part of search)
Using Pattern (website)
->Elements that sellers cannot directly control
Quality scores of the competition
Random rotation (of items within search)
Time of day
Buyer location (some countries are regionalized)
Buyer behavior
Shopper's recent search history
Shopper's overall Etsy search history
Shopper's social media activity through Etsy
Item quality
How long listing has been listed without sales#
Hearts (to a degree, within reason)
High click rate (can work negatively if no one buys)
Item conversion rate*#
Specific to search terms
Shop score for those search terms
Sales in that specific search*
Sales in similar searches#
Clicks in that specific search*
Clicks in similar searches
Favorites in that specific search*
Favorites in similar searches
Details (context) of current search*
Shopper data
Etsy Purchase history*
Shopper location*
Shopper age, gender and other demographics (this just makes sense)
Clicks of similar shoppers
Favorites of similar shoppers
Purchase history of similar shoppers
Shop quality
Shop conversion rate
*
Backlinks to your shop
Backlinks to your listings
Items that are not a direct factor
Price (can certainly be an indirect factor)
Using all ten photos (could become an indirect factor if Etsy adds photo recognition)
-------------------
Phew, that was a lot of factors. No wonder artificial intelligence is necessary to sort it all out!
Here is some new information on search:
https://www.youtube.com/watch?v=fb-oZNJD-QI
Have I missed something? Let me know and I will add it.
In another post we will cover what sellers can
do
with the information.