Your shop is up and running. Inventory is listed and well photographed. Your listings are optimized for key words used during Etsy searches and search engine queries. You have even made a few sales.
Your shop is all ready, all ready to ship great vintage items. But it's very quiet.
Two types of paid advertising are available through Etsy's Advertising Dashboard:
Promoted Listings
Google Shopping Ads.
Both are set up so that you only pay if someone clicks on your item. Your dashboard will provide the following information:
Impressions (your item showed up at the top of someone's search)
Clicks
Cost per click
Buys (within a certain period of time after they clicked using your ad)
Revenue (how much buyers spent on your items)

In each case, the cost, your advertising budget, can be set as low as approx $1 per day. What you pay can be less than that. Etsy has set an upper limit of $10/day.
Etsy's Promoted Listings
These are ads within Etsy. You've seen them when searching and shopping on Etsy. They discreetly say the word "ad" on them. On a PC, the ads are all lined up and I pretty much ignore them.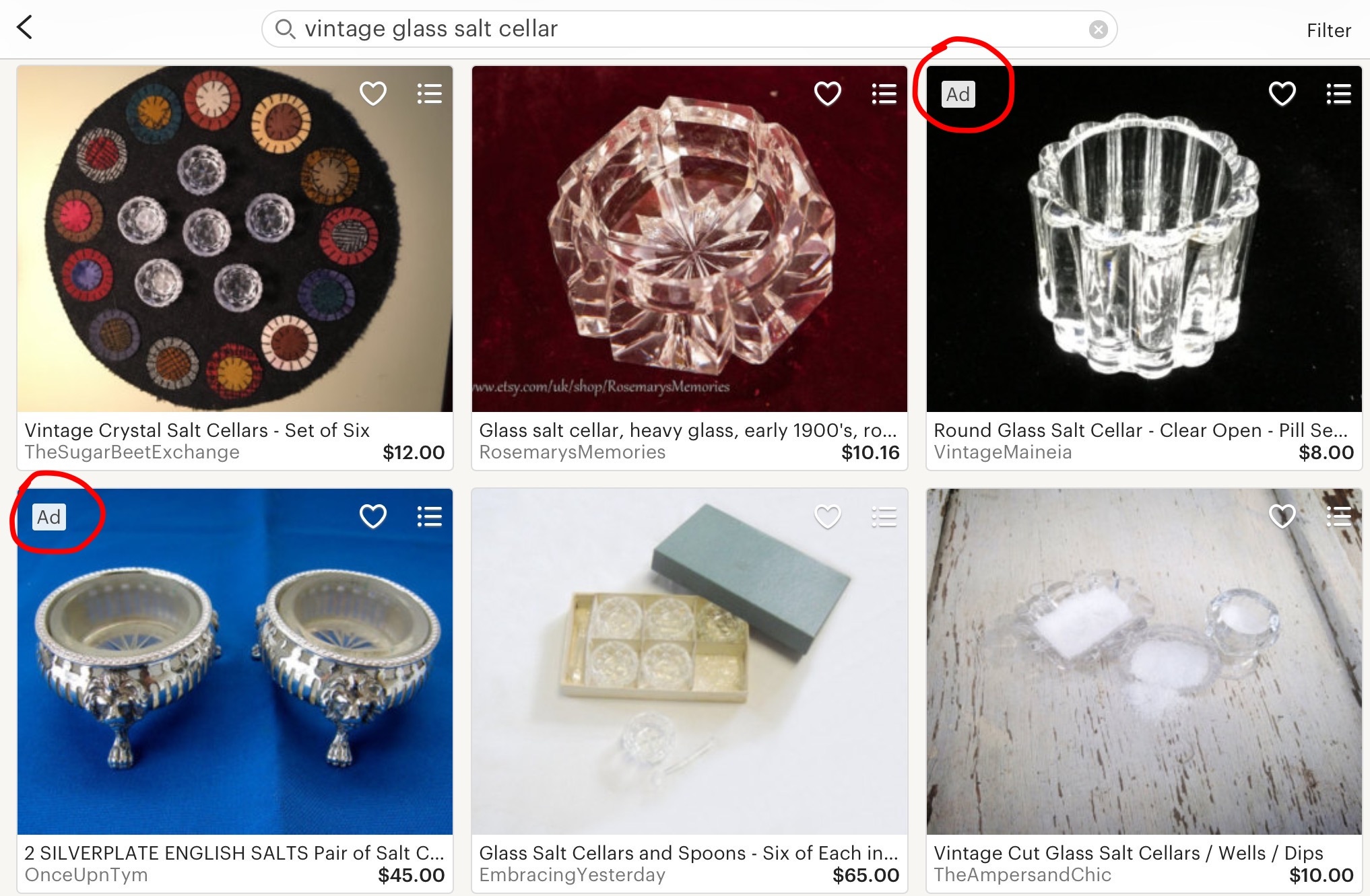 When buyers use the Etsy App, ads are harder to ignore
However, on a mobile device using the app, the ads are better blended in, seemingly unpredictable. That's a game-changer for me, as they can't easily be ignored on the app, which many buyers now use.
This paid advertising service is very easy to set up. Basically, you set up your daily budget, a click or two, and it is good to go.
Once you activate Promoted Listings,
you will be able to view a dashboard for managing them. There you can toggle individual listings off. You can target which items get advertised and which do not. You can also adjust how much you spend per click.
Promoted Listings use your Etsy listing titles and tags. It is a good idea to optimize these before enrolling. If you are not sure,
check your stats for Etsy traffic
. Be sure that "Search" is among the first three traffic sources. If not, tweak your listings.
Promoted listings provide benefits beyond just the ads.
More advanced information is here.
Google Shopping Ads
All Etsy sellers receive some exposure through Google Shopping ads. Etsy enrolls every shop in a basic program of paid ads. Since Etsy added the paid version, I have seen the stats for my Google Shopping numbers steadily decreasing. That means to me that Etsy has cut back on their "free" advertising.
My views from "free" Google Shopping Ads have been heading downward
These paid ads are found in a couple of places on shopping engines. One place is at the top of searches. Another place on the Google search engine is Google Shopping Ads. When you search on Google, there are tabs and choices on the top for Images, Maps, News and Shopping.
In reality, the Paid shopping engine ads include more than just Google. Have you heard of Bing, ShopStyle or Facebook? They can all be part of Etsy's advertising network.
It takes at least a week to optimize your bids. You will want to run your shopping engine campaign for at least one month before doing a hard evaluation.
Here is an important caveat: Shopping Engine Ads are subject to the terms and policies for each individual shopping engine (
here are Google's policies
)
which may be different than Etsy's.
I haven't heard of it being an issue, but it could be.
I have had an Etsy shop for several years. Is it necessary to advertise?
Advertising increases the exposure of your listings to shoppers. You can choose to do this on Etsy, Shopping Engines or both.
Advertising cannot guarantee sales, only exposure. Your products must sell themselves. Ads only work if you have a salable product that need more exposure. Items that will sell themselves if they could just get seen.
We all must pay for the privilege of increased exposure. Etsy is now a publicly traded company. "Pay to play" advertising is one way for them to show a higher profit for their shareholders. It is just a fact of life.
If you sell in saturated categories, paid ads may be the only way he get adequate visibility within Etsy searches. Sometimes it appears to me that shops could do some work on their SEO and photos, and bump themselves up rather than pay for ads. However, that's a personal business decision made by shop owners every day.
Have you tried Etsy's paid advertising? Did it work for you?