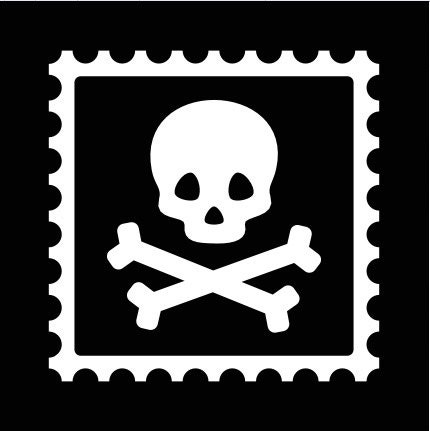 Pirate Ship is the new shipping app on the block
Have you tried Pirate Ship for shipping?
Arrrrgh, there is a new shipping integration afoot.
I admit it: I was skeptical at first. Pirate Ship seems TGTBT. After all, Etsy already gets commercial rates.
However, the "commercial" USPS rates that Etsy (and eBay and Amazon) pass on to third-party sellers is not the cheapest rate (called "Commercial Plus.")
How does an online seller tap into the lowest shipping rates without spending a monthly fee?
I think I have found it: Pirate Ship.
There are lots of things to like
Pull up a screen and see how much your package will cost. The interface is simple: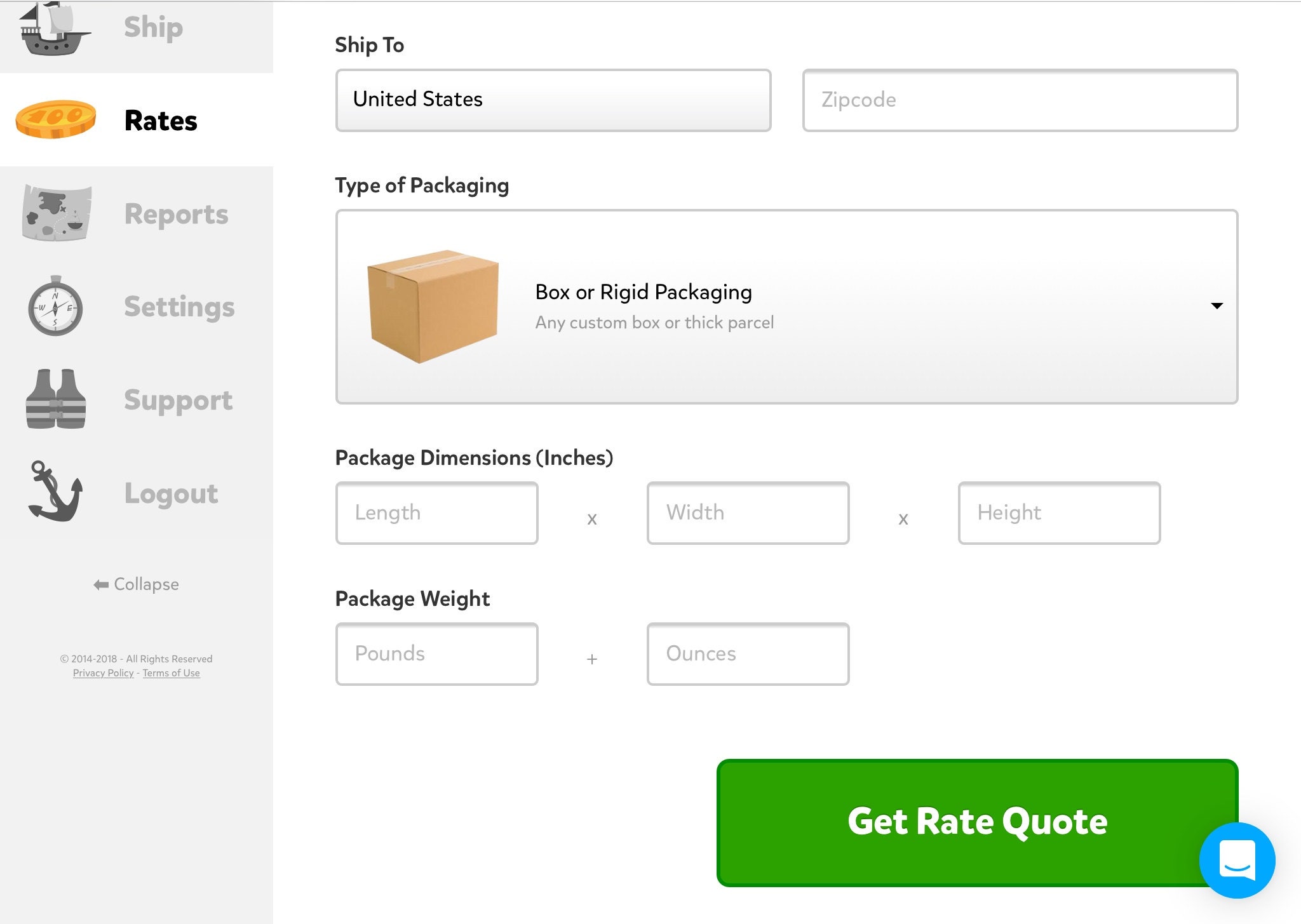 The interface is clear and easy.
The rates are competitive. I save especially when shipping small, heavy items.
Ability to combine some different selling venues into one shipping source, such as Etsy, eBay and Shopify.
Pay with your credit card.
Pirate Ship imports shipping details from Etsy, eBay and Shopify.
After purchase, it marks orders as shipped on Etsy and other venues.
Setting up my Dymo 4XL was a breeze.
Included is up to $100 insurance. If you need additional insurance they use U-Pic which is 75c up to $50.
Pirate Ship has free chat support where you can ask questions.
You can pay for labels as you print them or you can pay in advance.
It is free!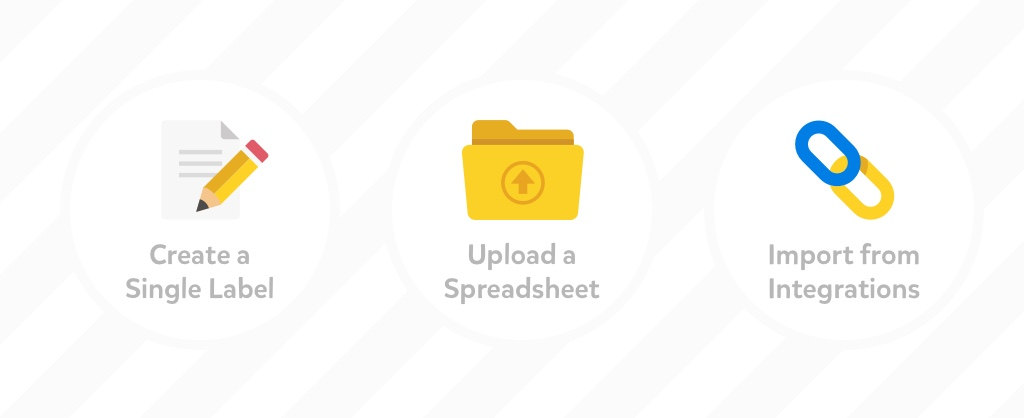 Pirate Ship is easy to use
This will be my new go-to for personal packages. PayPal's user interface for shipping has always left a lot to be desired...
Is it the very cheapest for every package?
The short answer is "no."
If you ship primarily large packages such as 12x12x8" you will only save about 25 cents per package. First-class packages are the same as other venues. (This is in late 2018, before the new zoned first-class rates are implemented by the USPS.)
Stay tuned for how it goes in 2019.
Cubic rates, the secret sauce of Pirate Ship
PirateShip uses cubic shipping rates when applicable.
Cubic shipping is shipping by space and not weight. (Have you ever been disappointed that your heavy item was just a tad wrongly shaped to fit into a regional box?) Cubic rates are purely by size, maximum of 20 lbs.
You probably already stock some priority boxes, right? Those Priority Mail boxes are in fact already set up for cubic mail. Here are some examples:
| | | |
| --- | --- | --- |
| Box | Dimensions | Cubic Tier |
| 1096L | 9-1/4" x 6-1/4" x 2" | 1 |
| 4 | 7" x 7" x 6" | 2 |
| 1097 | 11-1/2" x 13-1/8" x 2-3/8" | 2 |
| 1092 | 12-1/8" x 13-3/8" x 2-3/4" | 3 |
| 1095 | 15-1/4" x 12-3/8" x 3" | 4 |
| Shoe Box | 7-1/2" x 5-1/8" x 14-3/8" | 4 |
If you do not have them, Priority boxes are free for the ordering from the USPS website. (Do not forget that USPS boxes can be cut down, possibly moving your package into a lower price bracket.)
More about cubic shipping
Skip this section altogether if you just plan on dropping your product details into Pirate Ship... This is the math for those who wonder how it works.
You can calculate cubic feet for yourself
To calculate the cubic pricing tier of your package:
Measure the outer length, width, and height of your package in inches (18" max in any dimension).
If any of the measurements are over the nearest quarter inch, round down to the
nearest 1/4" (for example, 5.6" inches becomes 5.5" inches).
Multiply the Length x Width x Height and divide the result by 1728.


The resulting number is the size of the package in cubic feet. Use the Priority Mail Cubic® rate chart to determine the pricing.
(Be sure to round UP fractional results to the next tier... for example a package that is 0.24 cubic feet is in the 0.3 tier).
Here are the 2019 cubic rates for US mail:
| | | | | | | | |
| --- | --- | --- | --- | --- | --- | --- | --- |
| Cu ft | L, 1 & 2 | Zone 3 | Zone 4 | Zone 5 | Zone 6 | Zone 7 | Zone 8 |
| 0.10 | 6.95 | 7.28 | 7.49 | 7.65 | 7.82 | 7.99 | 8.25 |
| 0.20 | 7.34 | 7.68 | 7.91 | 8.12 | 8.40 | 8.61 | 8.92 |
| 0.30 | 7.79 | 7.99 | 8.27 | 8.92 | 10.18 | 10.73 | 11.39 |
| 0.40 | 7.95 | 8.27 | 8.63 | 9.50 | 11.79 | 12.94 | 14.79 |
| 0.50 | 8.07 | 8.56 | 9.13 | 10.34 | 13.95 | 15.75 | 17.91 |
What are the zones, anyway?
This great question was brought up by a reader of this blog post.
The USPS zones are based on where you ship from. They are different for almost everyone (if you have a different 3-digit zip, the first three digits of your zip code).
To find out yours, go to the USPS at this link.
Type in the first three digits of your zip code; a chart will appear with your zones.
I keep a copy in my shipping room for reference.
What about International First Class Mail?
According to one seller, "after using Pirate Ship for 2-3 months, they offered me a lower rate tier for international first class. My rate for a 3 oz package to most countries is $9.95 and $7.95 to Canada."
Pirate Ship told users on their website before the USPS increases in January, 2019:
"First Class Package International is no longer the cheapest way to ship packages that weigh less than 4 lbs internationally! If your business is expanding globally, just chat with us to get access to Simple Export Rate, which can save you up to 40%."
What about paperwork?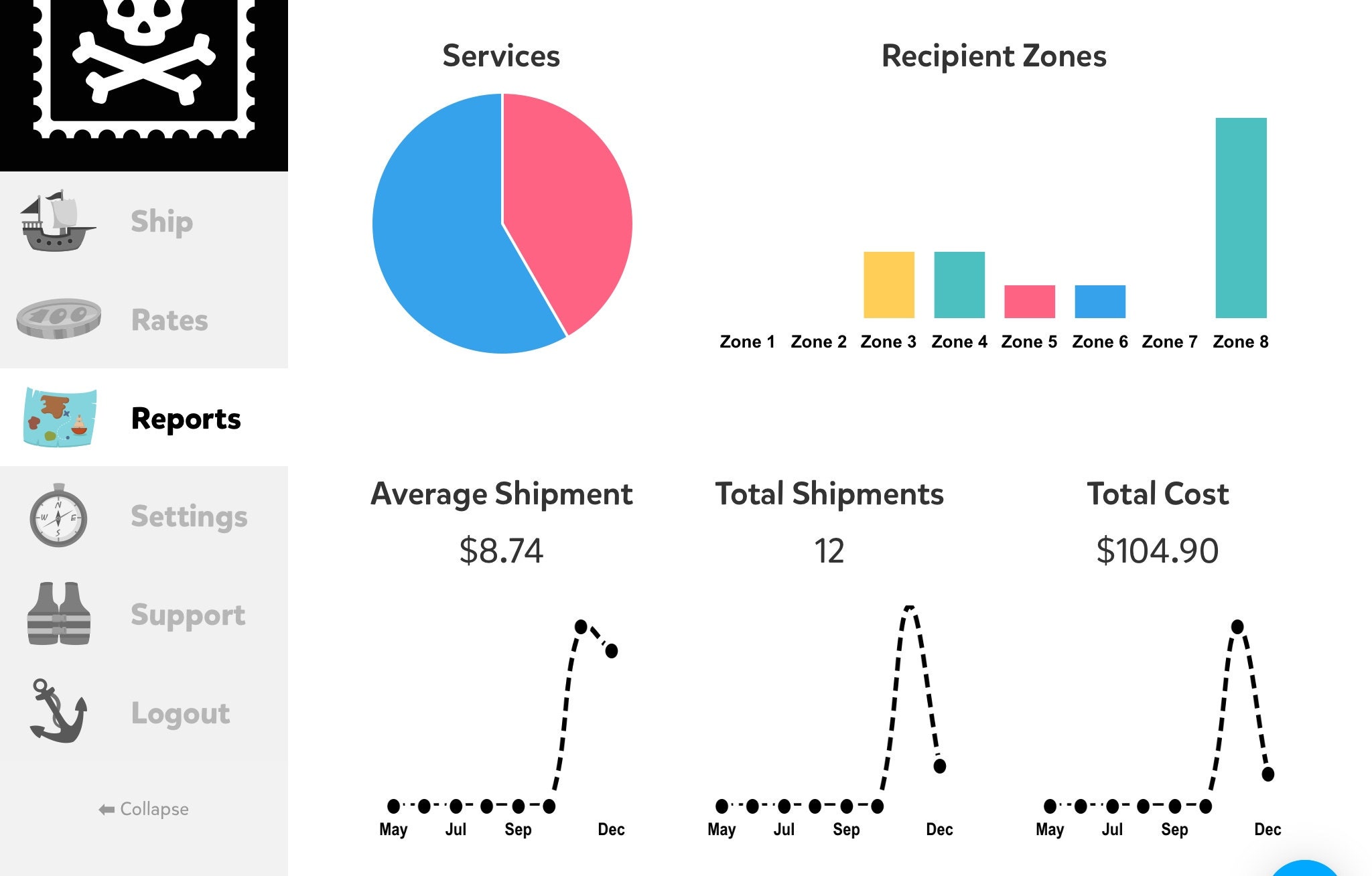 Pirate Ship has a tab for "reports" for bookkeeping
My husband was still skeptical. "How will this go come tax time?" He had a point.
I found the "reports" tab. It will be one more step, an additional calculations for taxes of course.
And they have these pretty data charts.



Pirate Ship is easy to integrate with your online venue

Is it easy to set up?
You must provide some basic information to Pirate Ship.
In order to access your account and pull your orders, you must grant them some access to your account (much like Foto Fuze if you have used that integration).
They will ask for a way to pay for the labels. (I have it set up much like EZ Pass and meter them out $20 at a time from my credit card.)
There are other things to set up like your return address, package templates and content of shipping emails.
Read here how to set up additional "ship from" addresses.


It seems too good to be true. How do they make money?
"How can Pirate Ship possibly stay in business when it is 100% free while offering the deepest USPS® discounts available?
"The reality is we make our money just like any other shipping software company; through our official partnership with USPS®"
Online sellers need several tools in their shipping "box."